New Tempstar® Ductless Line Provides Customers
with Comfort, Efficiency, Innovation and More!

Why would customers choose a ductless system? The new Tempstar® Midea® ductless line includes a variety of convenient, economical and energy-efficient air conditioning and heating solutions that can be used in one room or easily expanded to multiple rooms.
Ductless systems offer several advantages, including:

Customized Comfort

Efficiency
Innovation and Potential Energy Savings

ENERGY STAR® Certification on Select Models

Performance
Smart Features
Air Quality
Flexibility

Let's analyze these eight benefits in more detail to see if the Tempstar ductless line may be a "GR8" HVAC solution for your customers.
---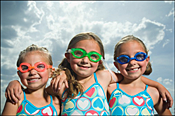 1. Customized Comfort

Tempstar ductless models have a broad temperature range allowing for customized comfort. Select units provide low temperature heating to a frigid -22° F (-30° C), and cooling even when temperatures reach as high as 122°F (50° C).
---
2. Efficiency

Achieving efficiencies up to 40.0 SEER and up to 14.5 HSPF on the highest tier offering, select Tempstar ductless products have one of the highest efficiency ratings in the world. Click here to view efficiency ratings on the complete Tempstar ductless product line.
---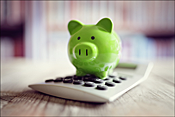 3. Innovation and Potential Energy Savings

Tempstar ductless systems utilize Inverter technology for superior innovation, energy savings and comfort control. Traditional HVAC compressors can waste a lot of energy because they run at 100 percent capacity until the temperature set point is reached, then they turn off.
Tempstar Inverter technology features a variable-speed compressor that automatically adjusts the running speed of the ductless equipment to maintain the desired temperature. That way, a Tempstar ductless unit runs smoothly and quietly at a fraction of capacity, which can provide significant energy savings.
---
4. ENERGY STAR® Certification

Tempstar Inverter technology means highly-rated efficiency. Did you know that 45 percent of Tempstar mid-tier ductless models are ENERGY STAR certified? It's true!

---
5. Performance

Tempstar high wall, cassette, console, ducted and light commercial models are easy to install and use. An innovative bracket holds interior ductless units in place, allowing for easy connection to the refrigeration unit. And, there's no need for a branch box on multi-zone installations, which saves time and costs.
Homeowners will find the ductless remote simple and intuitive to use, so they can easily manage their new Tempstar system.

---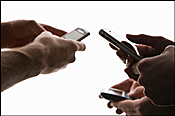 6. Smart Features

Most of the new Tempstar ductless models are compatible with the Wi-Fi® accessory kits. This allows customers to easily adjust just one or all of their ductless units anytime from virtually anywhere using the Wi-Fi accessory kit, a Wi-Fi-enabled smart phone and the Midea® Air mobile app.* Available via the App Store® and Google Play™, the Midea Air app is easy to use and keeps customers in control of their ductless systems.
---
7. Air Quality

Tempstar ductless filters are specifically designed for cleaner air quality and reduced allergens. Filtration systems include washable filters for easy cleaning and replacement.

Traditional HVAC split-systems utilize ductwork, where dirt and bacteria can grow and then circulate in the air. Ductless systems have no ductwork, which can mean less allergens in the air.
---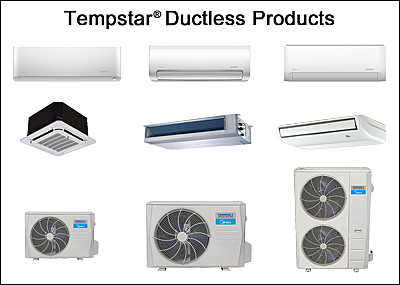 8. Flexibility

Tempstar ductless systems offer tremendous installation flexibility, especially in homes without the space for ductwork. There are a variety of single and multi-zone configurations, including new light commercial and ducted models, that can be customized to fit your customer's comfort needs.
Up to five indoor units can be connected to just one outdoor unit for multi-zone ductless systems. And, select models offer extended piping length between the outdoor compressor and indoor units for even more installation options.
---
Why choose ductless? There are many reasons a Tempstar ductless system may be right for your customers, including comfort, efficiency, innovation and more. With an extensive line of new ductless models to fit many climates, budgets and spaces, Tempstar has your customer's needs covered!

---
* Requires internet connection and mobile app account.
Midea is a registered trademark owned by the Midea Group Co. Ltd.
ENERGY STAR is a registered trademark of the U.S. Environmental Protection Agency. Many models are ENERGY STAR qualified. Proper sizing and installation of equipment is critical to achieve optimal performance.
Wi-Fi is a registered trademark of Wi-Fi Alliance Corporation.
The App Store is a registered trademark of Apple Inc.
Google Play is a registered trademark of Google LLC.