Check Out the New FER Launch Kit!

As of July 3, 2019, FER (Fan Energy Rating) standards are here, and they're here to stay. These new standards from the DOE required engineers at Tempstar® Heating & Cooling Products to make significant changes to the Tempstar gas furnace line. In advance of the FER deadline, Tempstar launched a complete line of re-designed gas furnaces in May of this year.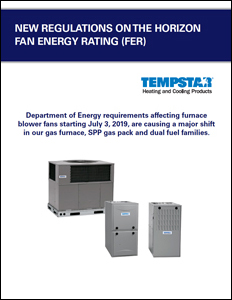 Have you checked out the new FER Launch Kit? The kit includes all the information you will need to get up to speed on FER regulations and the new line of re-designed Tempstar gas furnaces.

Ask your distributor for the FER Launch Kit so you can take advantage of these helpful tools:

Overview Documents
Get yourself up to speed on FER standards and what they mean to you as a heating and cooling contractor. Get answers to commonly asked questions about FER.

Product Information
Dive into the new line of Tempstar gas furnaces re-designed for FER. Compare the gas furnace line pre- and post-FER and learn how the nomenclature has changed as a result of FER with these tools:
Pre- vs. Post-FER Model Reference Guides
Product Lineups
Nomenclature Guide
FER Model Lookup Tool

Sales Aids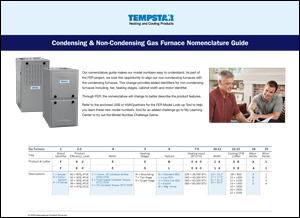 Learn the product development strategy behind the re-designed Tempstar gas furnace line and competitive advantages that can help you close your next sale with these files:

Sales Presentations
Selling Tips for Dealers
Videos
Watch informative videos on FER and the new gas furnace line re-designed for FER:
What is FER?
Tempstar® Gas Furnaces: The Right Choice for Dealers

Literature
Show homeowners the features and benefits of a new Tempstar gas furnace with these brochures:
Tempstar® Mainline Gas Furnace Brochure
Tempstar® Performance Gas Furnace Brochure
Photography
For advertising purposes, the launch kit includes high-resolution files of the:

Tempstar® Gas Furnace Group
Tempstar® Mainline 80 Gas Furnace
Tempstar® Mainline 90 Gas Furnace
Tempstar® Performance 80 Gas Furance
Tempstar® Performance 90 Gas Furnace
Tempstar® R-Series Gas Furnace

There are so many helpful marketing materials and consumer and dealer resources included in the FER Launch Kit. Ask your distributor to order yours today! Utilize the Launch Kit tools to educate your customers about FER standards and help you close more sales.